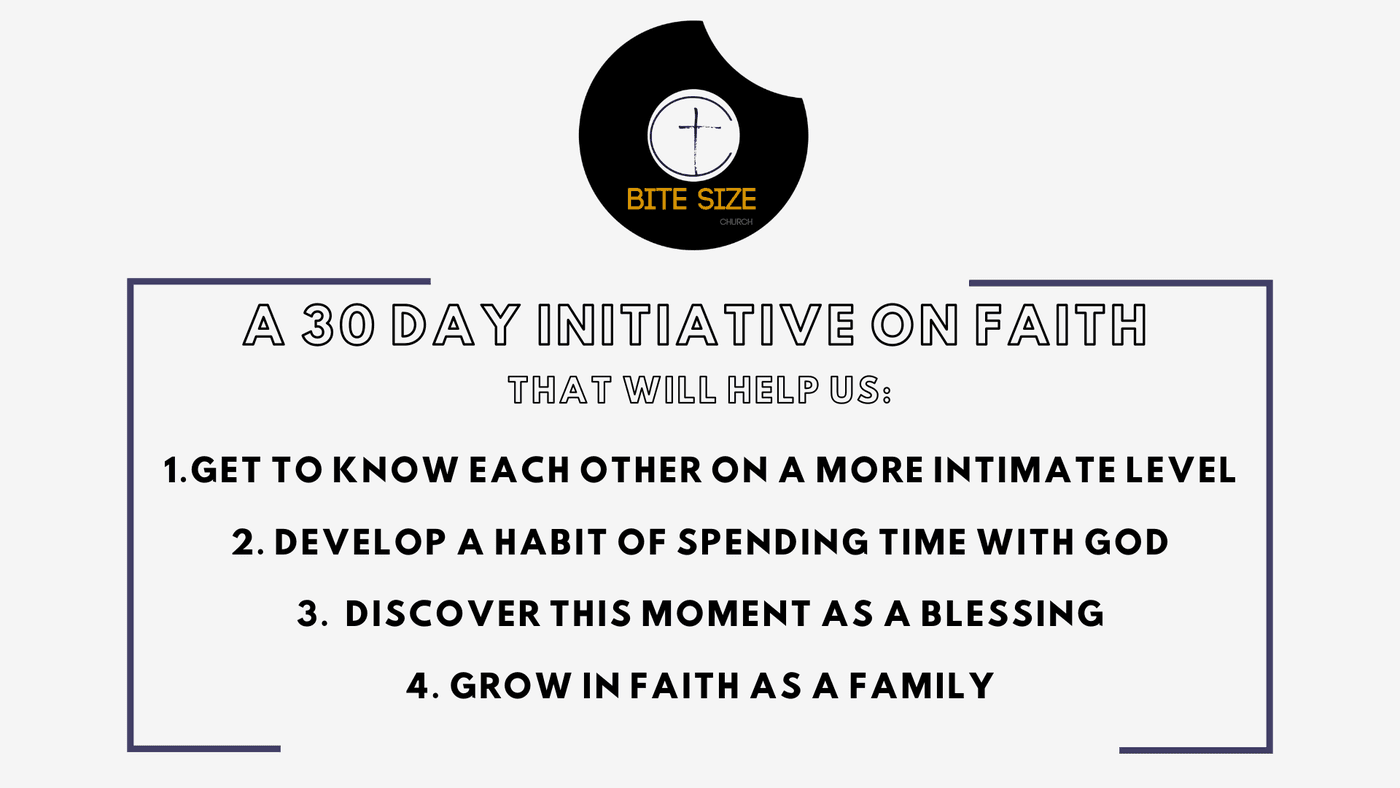 Church at Home / Bite Sized Church / Contagious Faith Focus
The corona virus has become part of our collective conscience now, and with the 30 day order given by Governor Roy Cooper. Starting Monday, March 30th at 5, we have a choice to make. Either hold on to normal patterns, or take this time to adjust our habits to a new movement I believe God is leading us to initiate in our Church.
Like never before we have the opportunity to evangelize and be the church God commissioned us to be in Matthew 28:18- 20 Then Jesus said, "All authority in heaven and on earth has been given to me. 19 Therefore go and make disciples of all nations, baptizing them in the name of the Father and of the Son and of the Holy Spirit, 20 and teaching them to obey everything I have commanded you. And surely I am with you always, to the very end of the age." In our neighborhoods, with our friend groups and in our community, we now have the opportunity to invite, invest and be involved with the people God has placed in our lives. We are being forced to stay home and be in groups of less than 10 people.
To be honest, my initial thought was, we will still make church happen, there has to be a "work around".
But as I sat last night, God gave me a peace and a direction for our church. It's as though He has a plan… if we are willing put self aside and actually listen!
The question He gave me was, "Why are you fighting to do the exact same things every other church in the country is trying to do?" Edwin recently said to me, "Pastor Jake I have the equipment list we need to be virtual but all the companies are out of stock". Which made me think… We are in a sea of similarity and God is calling us to be radical. To create a counterculture, to do something different. SO here is how I believe God is leading Cstone Church:
We need to initiate a 30 day faith focus for our congregation. When everyone else is simply trying to do ONLINE church, which is essentially the same event just online with a church hopping result. I want to see Cstone do something I believe is God ordained and altogether different.
Here is how I think this will work:
We have a 30 day experimental period that gives us the opportunity to act with the freedom of a church plant. See a church plant can do crazy things like egg hunts on Easter instead of service, and no one says anything because they are trying to capture moments and build a base.
So I see this as our opportunity to do just that to reach a new generation that is not interested in simply doing
TRADITIONAL CHURCH. . .
So for the next 30 days, starting Monday, we will take real life to the living room of every person that is part of Cstone Church! Each day we will worship for two songs, then a pastor, leader or layperson will join me for a discussion on real life in this time of real struggle.
See, I believe in testimony… I believe in contagious Faith and I believe as we spend the next 30 days NOT simply moving physical church to an online platform, which is everyone's focus… but instead initiating a contagious faith focus, dedicating 25-30 minutes daily via live stream and PODCASTs for those who missed the discussions, we will bring the truth about what God is doing in and through our community, right into the living rooms of our people.
We will bring in a single mom and talk about her struggle, we will bring in a single marine and talk about what God is doing in their life, we will bring in a senior and see what wisdom they can impart… and as we all watch this, we can answer questions, take prayer requests, and spend the next 30 days simply doing Quarantine life on life with one another….
It is a 30 day focus initiative on faith and how it applies to life during this time. Essentially, I am calling the church to a 30 day fast from TV, games, food and distractions for 30 minutes each day and devote that time to being together as a family in separate locations as we learn from various people how God is moving in this time!
I would like to broadcast it at 8PM nightly. This will allow kids to be in bed, (hopefully) so parents can focus and interact in the discussions.
The main question I know everyone has is… what about Sundays? Here is my thought…
Sundays will follow the same format as we have been doing, we still offer a kids worship and activity that they can watch while we do Cstone Church at Home, but with 10 or less people actually doing the service. While still broadcasting our 30 day, bite sized church initiative!
------------------------------------------------------------------------------------------------------------------------------------------------------------------------------------------------------------------------------------------------------------------------
I believe a few things will take place.
1. We will get to know each other in a deeper and more intimate way
2. We will develop a habit of spending 25-30 minutes each day focused on God
3. We will discover that this is an unknown need in the lives of the people in our normally super busy society.
4. God will grow our church as people see that we are real people, with real issues serving a real God!
I believe God is trying to get us as Cstone to focus on growing faith in His people during this time and less on Cstone the building.
So when we are able to gather again, we are stronger in faith and relationship with God, as a church and individuals than we could have ever been!
It's Bite Sized Church!
A call to fast, a call to faith, a call to family!